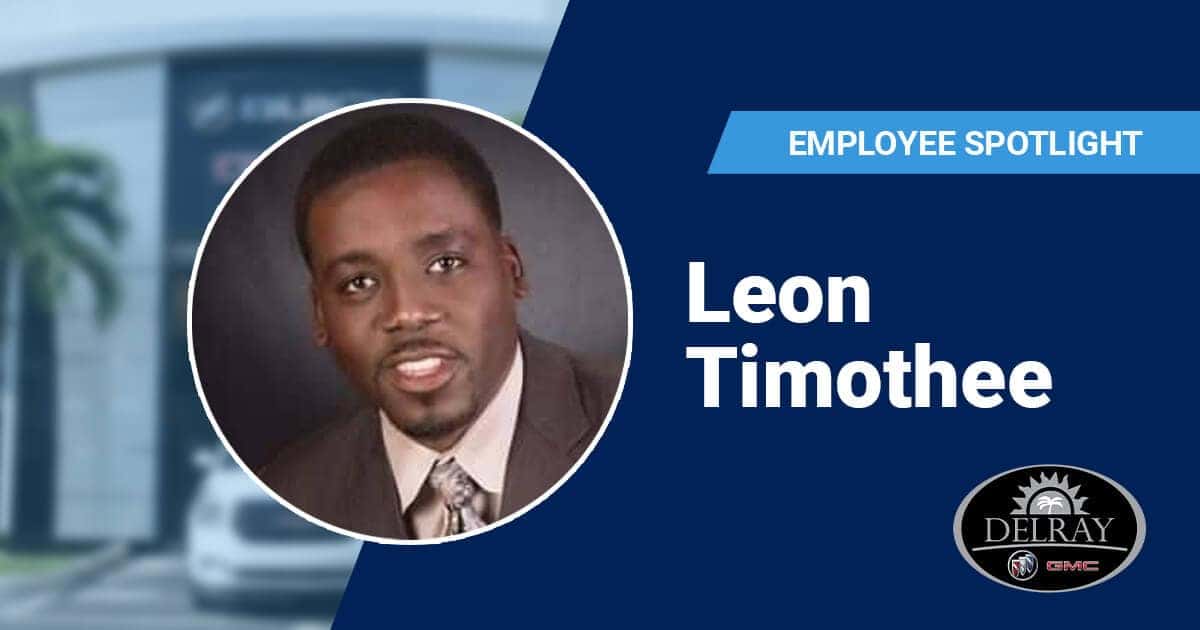 When Leon Timothee was a child growing up in the Bahamas, he spent his days playing with toy cars.
That's where his love for the automotive world began.
"I always would take my toy cars apart and look inside and see what made it work," Leon said. "My mom said I would take the stuff out and would still make the toy work, and that's when she knew I loved cars."
When he got older, he traded in those toy cars for the real thing: first working in automotive service, then moving into sales.
Now as the product specialist at Garber-owned Delray Buick GMC in Delray Beach, Florida, Leon said he is reaching new heights – personally and financially – that he never thought possible.
"I've been here eight years," he said, "and I am now really making and saving the money my parents never would have made when we were kids who had just moved to the United States. The money I'm making now…it's amazing."
The financial stability is rewarding, but that's not the sole reason Leon has a fulfilling career with Garber.
"Mentally, physically, spiritually I've grown," he explained. "People take care of people here. People understand where I came from. If you have a dream, you can push forward here. If you keep pushing, there's no limits here."
Leon's story is proof that from humble beginnings can come fruitful futures.

Opportunity Knocks
Leon and his family moved to Florida from the Bahamas when he was 12 years old.  
"My mom and dad wanted a new life and a new beginning for us," Leon explained. "I was excited…we always saw the commercial for Disneyworld, and I always wanted to go there."
When his family arrived in the States, the weather was the same. Everything else was not.
"It was the same type of climate, but it was a different way of life," Leon said. "There were more opportunities. Everything was different: waking up, learning the culture, going to school, and adapting to the ways of life. I was happier."
Opportunity knocked when Leon was in high school, where he was introduced to automotive classes.
"I could pick my own classes, so I took Automotive 1, 2, 3, 4,5, 6, in high school," he explained. "When I got to vocational technical school, I grasped everything, thanks to those classes. When I graduated high school in 1992, I worked at Jiffy Lube for 10 years and that got me going in the automotive industry. I've been in automotive ever since."
Following his decade at Jiffy Lube, Leon worked in the service department at various locations for several years.
Life happened. He decided to take a break from the automotive world and stay at home. But when he found Delray Buick GMC, knew it was time to return to cars.
"It's Family at Delray"
Leon wanted to work at Delray – so much so, he wasn't particular about what he would do at the dealership.
"When they hired me, I didn't care what position they had open," he said. "I wanted to put my foot back in the door."
In 2013, Leon got hired at Delray. He helped out with rental cars, then returned to the world he knew so well: the service department. After a vacation with his family, his comfort zone expanded with a new opportunity in 2014.
"When I got back from vacation, they said, 'Alright Leon, we love how you speak on the phone with our service customers; let's get you into sales,' and that's how I got into sales."
The sales department was quite a switch from the service department, Leon said. It was the beginning of the automotive journey rather than the middle.
"I was nervous when I first started sales, but I was used to working with people in service to help people who had vehicle problems," he explained. "But in sales, it was different because you have to wait around for customers to come by, and when you're in service, they come to you. I just reversed the method: it's not fixing, it's selling."
He said he learned to enjoy the entire sales process.
"I like everything about sales, from the beginning to end: helping teach the customer," he said. "We won't let customers down. I'm going to be there for them no matter what. I try to help create a good atmosphere for the customer."
The work environment is a supportive one for both the customer and the employee at Garber.
"It's a family at Delray," he said. "Dick Garber comes down to visit us. He shakes my hand and says, 'Leon, thank you for doing what you do.' All of us here – the managers, service, parts, body shop – we all gel. If we have an issue, we all help each other. It's a nice atmosphere to work in. Everyone is so supportive. I can always go to our managers and talk to them and they will sit down with you and help you understand. The support is very strong."
Kevin Connolly, the General Manager of Delray Buick GMC, is especially supportive, Leon added.
"Kevin, our GM, has amazing drive," Leon said. "His attitude is, 'We are going to do better constantly.' Some managers just want to make their money and don't want to hear from you. But Kevin sits down and he has an open-door policy. I can sit down with Kevin and ask,' What can I do better?' He cares about me and that makes me want to stay."
From Then to Now
When Leon looks back on his life, he is amazed at where he started and where he is today. He said he is grateful for his biggest blessings: his wife Elizabeth and daughter Aiyana. 
Hesaid he is also appreciative for every chapter of his life so far. 
"Going back to my childhood self…it was tough, it was hard," he said. "It's shocking to be here. I never thought I could put myself in this type of position. I am blessed. I just wanted to go to work and take care of my family. Now I can look back and see the journey. It is a life experience."
He said his parents are also proud of their son's career journey.
"My parents are Haitian immigrants; my mom came to the Bahamas at 13 years old," Leon explained. "She had no support. When we came to the United States, they were making very little. She had five kids. They supported us, we always had a roof over our head, but it was not easy."
"My mom is like, 'Son, do you understand I made pennies, and look at you now.' She was shocked. My dad always asks me, 'Son, how many cars have you sold? Wow, that is amazing. Keep on going.' They are proud."
Fast Five

First job? When I was a young kid, I sold newspapers.

First car? A Nissan pickup

Favorite food? Seafood

Three words to describe your personality? Honest, humble, bubbly

Bucket list item? Take a nice vacation to Paris and Hawaii.