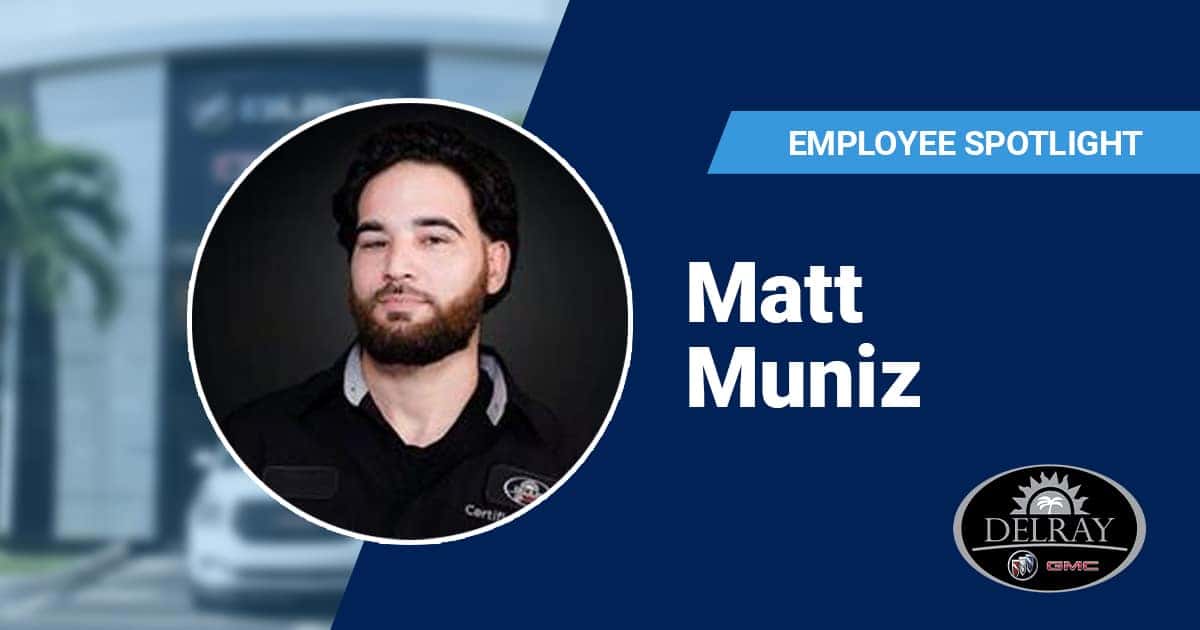 Like many of us, Matt Muniz faced challenges in his adolescent years.
Mentors helped give him support and direction. Their positive impact on Matt's life inspired his initial pursuit of a specific career path.
Spoiler alert: it wasn't the automotive industry.
"I wanted to be a guidance counselor for middle schoolers," said Matt, who is now a technician at Garber-owned Delray Buick GMC in Delray Beach, Florida. "Since I was in middle school, I had someone who looked out for me. Growing up and going through different personal experiences, I got in trouble when I was younger…but I had that adult figure to look out for me. I wanted to do that: help kids growing up and steer them towards a different path."
While Matt wanted to help the younger generation, he also wanted to work on cars.
"I love cars; I love working on cars," he said. "I grew up working on Hondas because all my friends were into Hondas. I just love working on those cars. I started racing cars. It became a part of my life."
Now as a technician with Garber, he gets the best of both worlds.
"I try to pass on knowledge with the younger guys who come in here to work as techs," he explained. "These guys come in here at 21 or 22, and I see myself in them. I try to show them the bigger picture. I explain to them you have to make every day worth it, so when you are 35 and can afford to buy a home and take care of your family, you're able to do that. That's why I try to teach these guys here…because someone taught me."
Finding His Way
Friends are what led Matt to steer away from counseling and carve a career path in cars.
"As far as getting into the automotive industry, my friends were into cars," Matt explained. "I hung out with them, and so my first job was doing oil changes at Jiffy Lube when I was 17. I went from there and never looked back. I got really good at being a tech, and it's what now supports me and my family. It's become a career. I enjoy it."
From Jiffy Lube, Matt went on to work at Goodyear for 10 years. Similar to when he was an adolescent, he found a mentor that helped guide him at Goodyear.
"My store manager played an older brother role and he's actually what kept me going and grounded. With all my life experiences I had, he was there to help."
Ironically, the tables turned.
"Now my former store manager at Goodyear is the service manager here at Delray Buick GMC," Matt said. "I got him over here. I looked out for him just like he looked out for me, and now we both work together. It's the circle of life."
But how did Matt get to Garber? Just like he got into the automotive industry: through a friend. 
A Leap of Faith
Matt decided to follow his friend's suggestion to leave Goodyear and work at Delray Buick GMC.
"A really good friend of mine is the used car sales manager here, and he'd been asking me to come here to Delray for a while," Matt said. "Eventually you come to a time when financially you want to be better. I felt like I hit a roadblock so I took a leap of faith, talked to my wife about it and I took a chance."
Matt got hired as a technician in 2015.
"I've never looked back," he said. "It's been a blessing."
As a technician at the Garber-owned dealership, the work environment is designed to give techs the resources they need to get the job done: from parts to support to how techs are compensated.
"Not only do you have the time you need as far as availability, scheduling, parts…we have our own Parts Department where we are able to walk 30 feet and we have everything at the tip of our fingers instead of calling around trying to get parts," Matt said. "We get our own bays; we don't have to worry about other people's things. Nobody messes with your stuff. Everybody here is a team player. If you need help, you get help. We help each other."
The solid work environment translates to the lack of turnover at the dealership.
"From what I hear, we have the lowest turnaround for techs," Matt said. "That's because of the way the dealership is run and the leadership we have. There's always somebody here to keep things moving and keep the cars coming in and keeping everyone with work."
Matt said he's appreciative of the leadership: from Kevin Connolly, the General Manager, to Dick Garber, the president and owner of Garber Automotive Group.
"I feel secure with Garber," Matt said. "When you go to a job, you want to go in not worrying about your job. Kevin leads the dealership with an open door policy. If I need anything, even to talk about personal issues, he's always there. Every time Dick Garber comes down, he talks to everyone personally face to face. He remembers stories from the last time we saw him; he remembers things you have said about you and your family. It's wild that he can remember personally each and every employee's name and personal life. It's pretty cool."
'I Choose Here'
Matt said he is cementing his career with Garber.
"I wouldn't want to work anywhere else," he said. "My plan is to be here until I'm retired. I could go to any dealership, but I choose here. I choose Garber because of the feeling of being secure and actually wanted. I choose Garber."
Though he could go to a different dealership, there are plenty of reasons to stay with Garber, he said.
"If there's any family time needed, there's no questions," Matt said. "They go above and beyond when it's your birthday; they send an email out so everyone knows it's your birthday. Everything that matters to your personal life, they highlight it. They make everyone feel special about themselves. Any doubt you feel, there's always someone to your left or your right that can help."
Garber's leadership helps support employee goals, Matt added.
"I told Kevin [Kevin Connolly, General  Manager] my goals and we talk personally often; I ask for advice and he gives it to me," he said. "He gives me a lot of advice and I probably talk to him two or three times a day. There's GMs at other dealerships who don't even talk to techs."
Matt said working at Garber has allowed him to excel in all areas of his life, not just professionally.
"I've become a better father because I work for Garber," he said. "It's the availability that I have here. I've been able to actually spend time with my kids. Financially, this company has helped me do more things than I could ever imagine. I'm able to do things I wasn't able to do before. I feel blessed to work here; it makes me feel good."
Fast Five

First concert? KoRn

First car? Chevy Beretta GT. Teal green.

Favorite meal? Tacos

Three words your friends or family would use to describe you? Nicest. Guy. In the world.

Bucket list item? Go to Vegas.