Amazon Now Delivers to Your Vehicle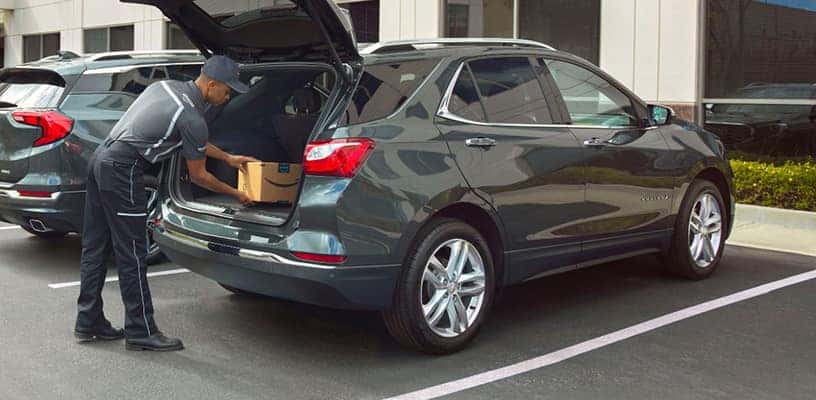 Now there's a new, easy way to get your Amazon packages delivered: send them directly to your Chevrolet, Buick, and GMC vehicles using Amazon Key. On vehicles that are 2015 model year and newer, you can sync your OnStar account to your active Amazon Prime membership for convenient in-car delivery at no extra cost! This exciting offer is available in 37 major cities currently and is coming to more cities across the US soon. This is just another reason why having a GM vehicle makes your life better all around. Check out what you can expect from this incredible new service and then start shopping for your new car with us today.
"Partnering with Amazon to leverage our embedded in-vehicle connectivity gives Chevrolet, Buick, GMC and Cadillac owners the option to conveniently receive deliveries inside their vehicle parked at home, work or near other locations in their Amazon address book," said Alan Batey, President, General Motors North America. "This is another example of how we provide customers with technologies that add value and enhance the ownership experience."
With Amazon Key In-Car Delivery, packages can be delivered to your vehicle when it's parked in a publicly accessible area. So if you're at work and need a quick gift for your administrative assistant, we've got you covered. You can get deliveries when your car is on the street in front of your apartment building, at your workplace surface parking lot, or even to your home driveway. Delivery is available on tens of millions of items sold on Amazon.com and works with Same Day, Two-Day and Standard Shipping. It's never been easier to do last-minute shopping.
"At Amazon, we are always working to make our customers' lives easier and starting today, we're excited to bring in-car delivery to Chevrolet, Buick, GMC, and Cadillac owners," said Peter Larsen, Vice President of Delivery Technology at Amazon. "Prime members now have another way to ensure their packages are safe and secure—all for no additional cost."
Setting up Amazon Key In-Car Delivery is quick and easy. Just download the Amazon Key App, which is available for both Android and Apple devices. Then opt in to link your Amazon and OnStar accounts. Once you register the location of your vehicle, you can shop on Amazon.com and select the "In-Car" delivery option at checkout. Additional eligible delivery addresses can be added to the Amazon address book at any time so you can update on the go for added convenience.
When your package is delivered successfully, the Amazon Key App will send you a notification and confirm that your vehicle is relocked for safety. Amazon Key In-Car Delivery requires a 2015 model year or newer Chevrolet, Buick, GMC and Cadillac vehicle. Visit onstar.com for coverage map, details and system limitations. To check eligibility and sign up for Amazon Key In-Car Delivery, visit www.amazon.com/keyincar.
Stop by to test drive any of our new vehicles to learn more about how GM vehicles are making your life easier every day. View our online inventory now!
Images courtesy of GM Media
Join the Conversation
Comments
comments