Buick earns a place in the top three brands for vehicle dependability from J.D. Power in the 2018 U.S. Vehicle Dependability Study. Buick takes over the third-place spot behind Lexus and Porsche, according to the J.D. Power's study, which ranks vehicles based on the number of problems reported in 3-year-old vehicles. Overall vehicle dependability improved 9 percent over 2017 numbers—the first time the industry score has improved since 2013.
"For the most part, automotive manufacturers continue to meet consumers' vehicle dependability expectations," said Dave Sargent, Vice President, Global Automotive at J.D. Power. "A nine-percent improvement is extremely impressive, and vehicle dependability is, without question, at its best level ever. For people looking for a new or used model, now is a good time to find that special vehicle."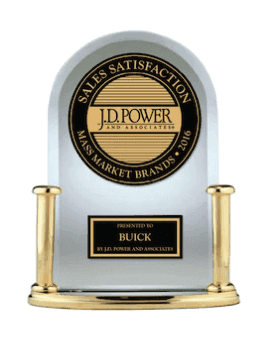 Buick earned the top spot for the mass market vehicle brands and is proud to continue to bring you quality vehicles you can rely on. Our team of engineers works hard to provide our loyal drivers with a full lineup of premium sedans and SUVs designed to give you a thoroughly enjoyable driving experience that performs like new every time you turn the key. Take a look at our current inventory to start shopping for your new vehicle today!
Find new trails to explore with the all-new 2018 Buick Regal TourX. You'll discover extra space to haul your hiking gear in the new hatchback body style, but still get all the agility and performance of a smaller car.
Breeze through your morning routine with a 2018 Buick Envision. This two-row crossover SUV is perfect for growing families, thanks to the extra room in the rear seats and smart storage solutions.
Go big with the all-new Buick Enclave Avenir. This innovative three-row SUV has enough power to get you off the line in a hurry and boasts a luxurious interior that's quiet, comfortable, and filled with useful tech.
See our entire inventory of new Buick vehicles now to start experiencing the dependability J.D. Power recognizes in these vehicles today. Make an appointment or stop by for a test drive!
Images courtesy of Buick Media