Three Biggest Changes Coming to the 2019 Buick Envision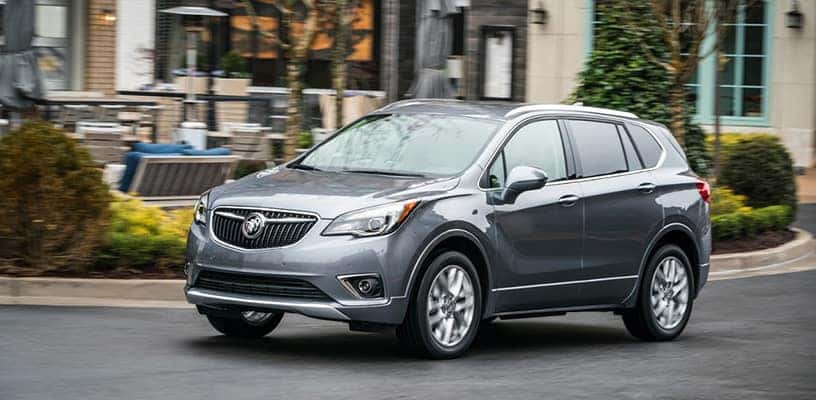 The upgraded 2019 Buick Envision made some small but significant changes to this mid-size SUV to keep your life running smoother than ever. This spacious two-row vehicle is thoughtfully styled to blend flowing design with intuitive amenities that are so in sync with your needs, you'll wonder how you ever lived without them. Discover what's new on the outside to make it stand out, check out what's now available under the hood to provide you better power, and how the interior is as comfortable as your living room now. The new 2019 Buick Envision will be available late this spring, but you can see our current inventory of in-stock Envisions now!
New Nine-Speed Transmission
For more power when you need it most, the engineers upgraded the transmission to a new nine-speed automatic that's silky smooth and effortless. This provides you with better cornering capabilities, optimal gas mileage more often, and 35 more lb-ft of torque. You'll still get the same great turbocharged 2.0-liter inline four engine, but now it earns 295 lb-ft of torque and 252 horsepower. Plus, now the cruise control defaults to the advanced Adaptive Cruise Control so you'll have greater confidence in traffic, but you'll also have the option to turn this feature off with the press of a button for more manual control.
Upscale Atmosphere
To add more comfort and convenience to every trip, Buick added an Ionizer and wireless charger to the interior of the 2019 Envision, making it feel more like a living room than the inside of a vehicle. The new air ionizer helps eliminate odors and reduce bacteria from accumulating in the vehicle. And say goodbye to fumbling for wires to charge your phone, the wireless charging station allows you to stay fully charged for whatever the road throws your way. The heated seats are also quicker to heat up, providing you with more comfort on those cold winter mornings.
Sharper Looks, Same Great Flair
The 2019 Envision's styling is refreshed and upgraded to match with the other newer vehicles in the lineup. You'll discover the new winged-tri-shield grille and a new fascia featuring chrome-ringed foglights in place of the former chrome foglight brackets from last year. The HID headlights are now standard, and bi-functional LEDs become the upgrade. Roll up in style, with the optional 19-inch wheels and Satin Steel replaces Plum Berry in the color chart. No matter which color you choose for your 2019 Envision, you're sure to catch some attention on the roads.
Get ready for small changes that make a big difference in how you drive your SUV. Buick continues to improve the driving experience with each upgrade to give you the best driving experience possible. Don't wait until the new 2019 model is here, test drive a 2018 Buick Envision today!
Images courtesy of Buick Media
Join the Conversation
Comments
comments